A recipe for some highly destructive Georgian sugar-plums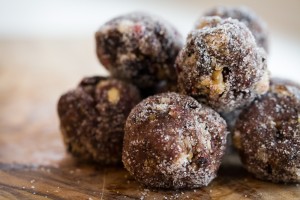 If you're watching The First Georgians tonight (9pm, BBC Four), look out for the bit where I get to destroy a sugar model of the city of Carlisle by bombarding it with sugar plums!  This week my colleague Christopher Boreham, our researcher on this series, has kindly written a post for you to explain how it all came about…over to Chris! 
'In the final episode of The First Georgians we saw how national events impacted on the personal lives of George II's Royal Household, often with strange results. One example was the 1745 Jacobite Rising which led to fraternal disputes between George's adult sons. Describing this event caused Dr Worsley to throw small balls of sticky candied fruit at a rapidly melting sugar sculpture in one of Britain's more exquisite public buildings.  This is where I came in, as researcher-slash-Sugar Plum Fairy, proving that a job in television is surely one of the stranger career paths …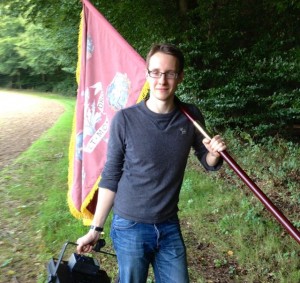 (Chris, left, also had the job of obtaining a replica standard for our filming at the battlefield of Dettingen, 1744 – here he is with his handiwork!)
A bit of background: During the Jacobite Revolution of 1745, the heir of the ousted Stuart family Charles Edward Stuart (known to history as Bonnie Prince Charlie) looked to reclaim the English throne from George II by force. Landing in the Outer Hebrides on the 23rd of July he began marching south to regain his throne.
The decision was taken to send the King's youngest son William, Duke of Cumberland, to drive off the Bonnie Prince and here we get into the family feuds that plagued the Hanoverians. George had two adult sons – his eldest and heir Prince Frederick, slim, musical and at constant loggerheads with his father, and the younger Prince William, a corpulent soldier and his father's favourite. It was fair to say they did not get on, and their father's decision to appoint William over Frederick to lead the army against Charles increased the animosity.
Pulled away from his military campaigns in Europe, William's arrival in England caused a huge surge in morale amongst the Government troops (annoying his spurned elder brother even further) and he began his march northwards.  William began to retake the towns which had fallen to the Jacobites and Bonnie Prince Charlie. Just before Christmas, William besieged and retook the city of Carlisle to great acclaim.
However, in his own private quarters, William's jealous brother Frederick entertained his guests and mocked his sibling by staging his own 'siege of Carlisle' by having his confectioner build a sugar model of the castle which he and his guests then bombarded with sugar plums.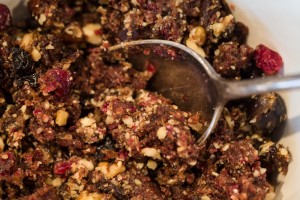 For the programme, we decided to stage our own mock siege in the beautiful hall of the Old Royal Naval College in Greenwich. We spoke to their chef, who was happy to build us a Carlisle Castle made of spun sugar which should explode impressively. So we had a grand location and a suitably destructive sugar castle, all we needed now were the sugar plum cannon balls. I was tasked with producing these and set to work.
Investigating the history of sugar plums, a number of possible recipes appeared. Some called for seeping fresh plums in sugar water, while others suggested coating plums in sugar and then baking them. However, both of these seemed to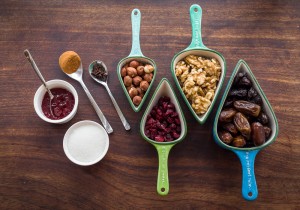 be very modern recipes and also would probably cover the beautiful frescos in plum juice. The original recipes for sugar plums weren't plums at all but instead were a kind of comfit where a caraway seed was encased in layer upon layer of sugar (up to forty layers) to create a sweet similar to a sugared almond we still eat today.
However, for filming we needed something with a bit more heft and that would roll down a long table towards the camera. Despite my best efforts of coating caraway seeds in sugar, I could never quite manage to create something which would hold together well, would roll successfully and would show up clearly on screen. In the end I decided to adopt a more modern recipe and so forged these little balls which held together well, were dense enough to do some damage and rolled like a dream (they also tasted pretty good).
The recipe:
o   3 oz pitted dates
o   3 oz walnuts
o   1 oz dried cranberries
o   1 oz prunes
o   1 oz hazelnuts
o   2 tbsp jam (I used strawberry)
o   1/2 tsp cinnamon
o   1/8 tsp cloves
o   1/2 cup granulated sugar
Method:
1. Chop the dates, walnuts, prunes and hazelnuts then blend with the cranberries in a food processor to form a rough paste.
2. Add the jam, cinnamon, and cloves, and pulse until the mixture begins to come together. Don't blend it too much though, it shouldn't be completely smooth.
3. Roll the mixture into small balls and roll the balls in the granulated sugar.
4. Either eat immediately, store in the fridge for up to a month or throw them at the candy castle of your choice.'
Thanks very much, Chris!