I am in the same room as many, many celebrities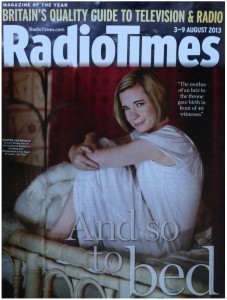 The other night I invited to the Radio Times Covers Party in the ballroom at Claridges.
What is a Covers Party, you ask?
Well, anyone who has been on the cover of the Radio Times in the past year is invited and is given a special framed copy of that week's magazine.
And that's it.
Obviously, with at least 52 celebrities invited (although they don't all turn up) it's a kind of celebrity zoo.
I believe I was invited as a kind of runner-up rejected cover.  Last summer I had my picture taken for the Radio Times.  I was told not to tell anyone (oops, just blown that), but that the shoot would be considered for the cover.  Anyway, it was rejected.  But I don't care, because HEY that picture appeared on the Whitchurch Village Website (news, 1st August, 2013), which is obviously far better.
(OK, I'll come clean: that website is run by my stepmother.)
When I got my invitation, I told a wise friend that I wasn't going to the party because it sounded like a living hell.  However, she said that I should definitely go, and that a celebrity zoo is almost as much fun as the real kind.  And indeed it was, and I ended up being quite pleased that I took the plunge.
It started badly though.
Quite early on Graham Norton (who was the host) said that any celebrities in the room who were NOT covers should be embarrassed to be there and should sack their teams.
I didn't know quite what to do, because I did not want to self-identify as a celebrity (that would have been grandiose) by instantly sacking Iain, the publicist involved in my Radio Times adventure (I was standing next to him).  At the same time, obviously, he should have sold his mother or something to get me on, and that was clearly a moral failing for which he should pay.
Trapped in my dilemma, I eventually achieved equilibrium once again by looking at the floor and shuffling my feet a bit. 
But then things picked up with the appearance of the actual celebrities.  You will want to know what celebrities I saw.
I saw Brian Cox and Grayson Perry and Gareth Malone and Mary Berry and Nicolas Parsons and a Hairy Biker. And Amanda Holden.
Then things picked up even more.  I was chatting to my friend Bettany Hughes, who of course is a celebrity but I don't think of her as such because I actually know her and she is very nice and normal.  (Despite the weird fact, as she told me, that Graham Norton breastfed one of her daughters.*)
All of a sudden, Bettany and I were tapped on the shoulder and summoned into the special celebrity room!
In this special room(!) at the back, all the celebrities(!) were lining up to have their pictures taken.  Bettany and I were in fact queue-jumped at this point by Carson the Butler.
'Did I push in, ladies?' he asked. 
'Yes!' we said.
'Well that's just the kind of person I am'.
Before you all send me emails saying 'how rude', let me tell you that he said it a very funny way.  And you may scoff as much as you like, but I was genuinely rather thrilled to have Carson the Butler pushing into a queue in front of me.
We also saw Olivia Colman, whom I very much admire.  When I saw that she couldn't walk in her heels, she endeared herself to me even more.
Carson and Colman really topped off the evening for me.  There were now so many celebrities all over the place that I didn't even know who they all were.
Satiated with fame, your celebrity correspondent went home, and had a nice cup of tea.
* Okay, I realise I can't just leave it at that.  What happened was that he was feeding the baby with a bottle, but he didn't realise it had actual breast milk in it.