'Tales from the Royal Wardrobe': some behind-the-scenes pictures
Well, I hope you're going to enjoy 'Tales from the Royal Wardrobe' tonight. I think I shall be enjoying myself this evening not least because I'll be watching with my friends from the crew with maybe a cocktail or two to hand.
I have here for you some behind-the-scenes photos from when we were making it…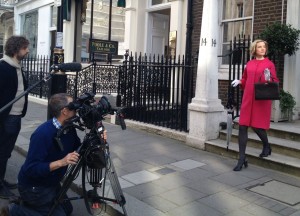 Who's that?  Is it a character from Mad Men taking a trip to 1960s London? No, silly, it's me!
A member of my family took one look at this picture and said, 'I can tell that you're ACTING, I wish you wouldn't do that'.  Ok, I admit I'm a bad actor, and indeed I was pretending that I'd been lucky enough to live in the early sixties and to go for a fitting at the Queen's designer Hardy Amies.  In fact, the Queen did not go to Savile Row for her fittings, Amies himself went to Buckingham Palace.  Apparently he was a little chagrined that he had to use the back door.  To the left you can see our brilliant director Nick (the hairy one), and our fantastic camera man Mike.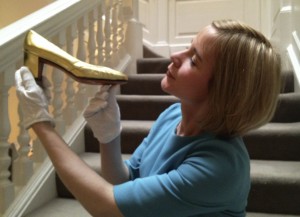 Here I'm having a good slaver over a golden shoe, worn by the Queen in the 1970s.  So stylish!  So sad it didn't make it into the programme!  We always have too many things to include.  And so sad too the shoe is on its own: somewhere along the way before it entered the Royal Ceremonial Dress Collection, our 10,000-piece costume collection at Historic Royal Palaces, its partner got lost.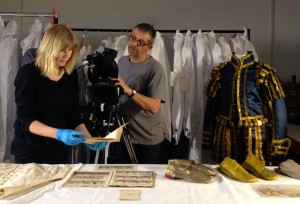 Here's Mike again, filming a book being held by Beatrice Behlen, who was formerly my colleague at Historic Royal Palaces and is now the curator of the really superb collection of costume at the Museum of London.  Lucky Beatrice.
It's not just any old book: it's the list of lots sold when George IV's costume collection was auctioned off after his death.  Beatrice is showing Mike the page that lists the funniest lot of all: 'a red petticoat and two Nun's habits'.  Fancy dress!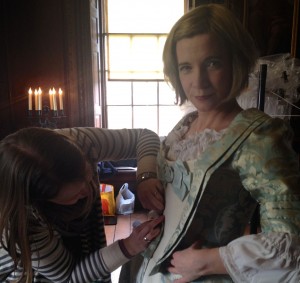 And here I'm being crammed into one of my costumes.  This 1750s mantua-type dress was possibly my favourite – so elegant!  So pretty!  So impractical!
The lady doing a wonderful job of pinning me into it is Lauren from Past Pleasures.  She's an absolute expert at this kind of thing because she helps look after all the Past Pleasures performers' costumes that you can see every day being worn around Historic Royal Palaces sites for the amusement and education of our visitors.
Poor Lauren, we always insisted that she work at about four times faster than would be ideal, but she only pierced my flesh AND MADE ME BLEED with her pins once or twice. (Ok, I'm exaggerating.  There was no blood.)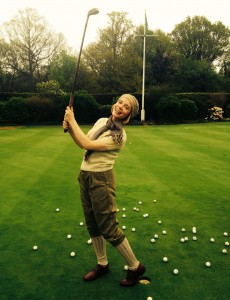 And here I'm demonstrating that I don't really know how to play golf.
This is at the Surrey golf club where Edward VIII was the President in the 1930s, and we were there to discuss his promotion of sportswear and other trendy informal ways of dressing that would catch on among the Bright Young Things of his set.
The golf club was a lovely place to film: warm, welcoming, friendly people, and – brilliantly for me – really huge comfortable changing rooms with showers and loos.
As we were leaving the golf club, though, our cameraman Mike was looking a bit pale, and I asked him what the matter was.
Apparently he'd just visited the gentlemen's loo himself, passing through the changing room to get there on the way, and he had been slightly blind-sided by a room full of naked golfers. Now, that wasn't on the Risk Assessment.