'Tales from the Royal Wardrobe' – what it's all about
I'm happy to be able to direct you to a smorgasbord of information about our new documentary, 'Tales from the Royal Wardrobe', that's going to be shown on Monday night at 9 on BBC Four.
Here you can read the articles I wrote for its BBC webpages...
Here's the story of how it all came about, from our curators' blog White Gloves and Muddy Boots.
And here, from today's Mail, is a nice article by Mary Greene (thanks, Mary!) with a summary…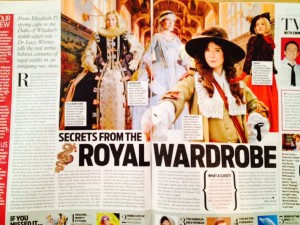 'From Elizabeth I's spying cape to the Duke of Windsor's stylish safari suit – Dr Lucy Worsley tells the real stories behind centuries of regal outfits in an intriguing new show.
Royal fashion choices have always been weighed with symbolism and meaning from Elizabeth I to the present day.  But who would have guessed royal dressmakers had to keep abreast of World Cup football as well as hemlines?  When Princess Diana visited Brazil in 1991, not long after Argentina and knocked them out of the World Cup, designer Catherine Walker was told to avoid green, yellow and blue – the colours of the Brazilian team – and definitely to steer clear of blue and white, the Argentinian colours.  In off-the-shoulder ivory silk and pink sequins, Diana could be sure of not offending any football fans at the state banquet.
Diana's dresses were her personal statements, explains royal historian Lucy Worsley, who explores the hidden messages behind royal dress in a fascinating new documentary Tales from the Royal Wardrobe which goes out on BBC Four this week.  And Elizabeth I was not different.  The Queen's fabulous Rainbow Portrait, at Hatfield House in Hertforshire where she spent her youth, was commissioned when Elizabeth was an old woman, but shows her as a timeless beauty in a gown heavy with symbolism: pearls for virginity, the bejewelled snake on her sleeve for wisdom, the ruby heart in its mouth for love.
But the Queen's mantle, painted all over with eyes and ears, sends out a chilling message from a monarch whose intelligence network of spies and informers had fought off threats to her life.  'This is the Queen saying: 'I can hear everything and I can see everything',' Lucy explains.
In the late seventeenth century Charles II used style to distance himself from the court of his father, who'd been beheaded.  Instead of old-fashioned tight doublets and baggy breeches, he encouraged men to wear long coats and waistcoats.  When the King appeared in his first black waistcoat finished with white silk, diarist Samuel Pepys approved: 'And on the whole, I wish the king may keep it.'
If Lucy has a favourite royal fashion victim though, it's George IV, who was so obsessed with appearance, his wife said it was a shame he had to be king – he'd have made a much better hairdresser.  'In 1821 he spent £25,000 on his coronation robes, which he only wore of a few hours', says Lucy.  George thought more of the cut of a coat than the condition of Ireland; his necktie was more important than parliamentary reform.  When he died in 1830, his obituary claimed, 'There never was an individual less regretted by his fellow creatures than this deceased king'.
Lucy unveils a 1920s safari suit belonging to the Duke of Windsor. 'When you look at the Duke's garments you can almost hear the conversation with his tailors.*  They worked so closely together to get exactly what he wanted. He had a huge influence on men's style.  He had his trousers flown over from America … Wallis Simpson called them 'pants across the ocean'.  But it's dangerous for royalty to be too fashionable.  Charles I, George IV, Edward VIII, they all came acropper.'
Hip young royals like Princess Margaret in the 1940s had the freedom to frolic in fashion – she was a fan of Dior.  Princess Diana, however, was constrained in her fashion choices which she was a senior member of the Firm.  But when she stroke out in that black 'Revenge' cocktail dress on the night Prince Charles confessed his adultery, she was sending a message to the world.  The dress, by Christina Stambolian, had languished in her wardrobe for three years because Diana had worried that it was too sexy.  Revenge indeed!'
*this was actually a comment from my colleague Deirdre Murphy mistakenly attributed to me.